Chinese shipbuilder Hudong-Zhonghua Shipbuilding has delivered the giant 24,116 TEU containership MSC Tessa to its owner Mediterranean Shipping Company (MSC). The massive vessel was independently designed by Hudong-Zhonghua and it belongs to the category of the world's largest containerships based on its capacity. The shipyard said that the vessel is actually the largest vessel delivered so far, breaking the record of Ever Alot which was handed over in June last year.
The giant boxship was ordered by China's Bank of Communications Financial Leasing (Bocomm Leasing) for MSC in 2020 as part of a four-vessel deal worth an estimated $600 million. It comes equipped with a hybrid scrubber, small bulbous bow, large diameter propellers, and energy-saving ducts. At the same time, the 400-meter-long ship uses air lubrication which reduces the total energy consumption and the corresponding total carbon emissions by 3% to 4%. It is classed by DNV classification society.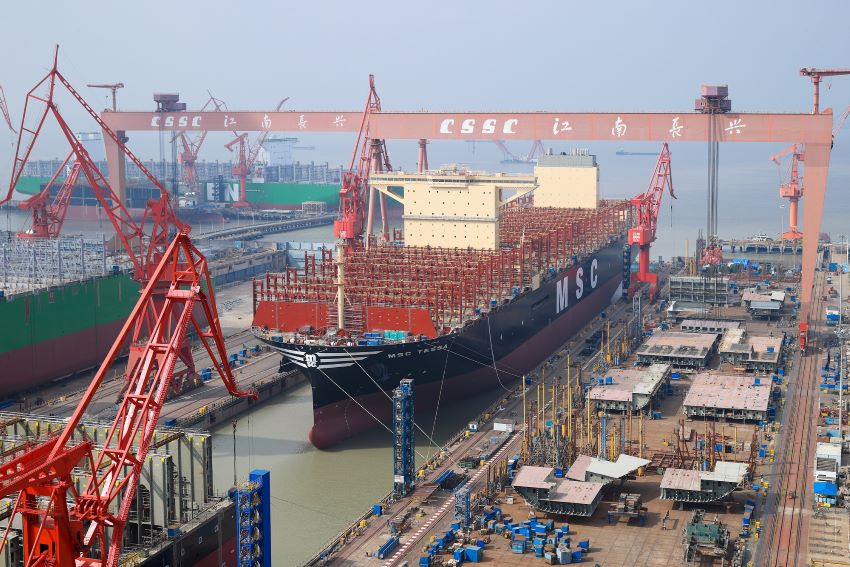 The vessel's deck area is close to 4 standard football fields, the molded depth is 33.2 meters, and the maximum stacking layers can reach 25 layers, the equivalent of 22 stories. It can carry more than 240,000 tons of cargo, and it can load 24,116 standard containers at a time.
The shaft generator is also used for the first time, which can effectively reduce fuel consumption, optimize EEDI energy efficiency indicators and reduce greenhouse gas emissions, the shipbuilder explains.