Today, 22 February 2023, is Founding Day in Saudi Arabia. We would like to take this opportunity and wish our colleagues, clients, and business partners in Saudi Arabia a blessed and joyful Founding Day.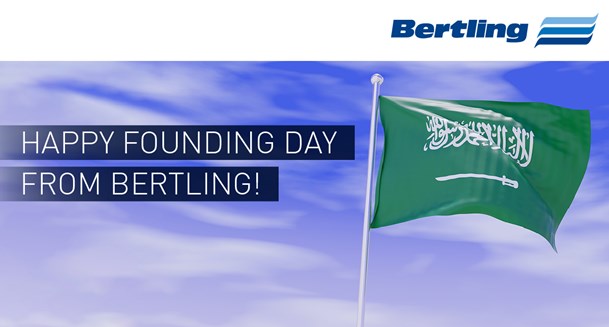 Stay safe and healthy, and enjoy the holiday with your families and loved ones as far as the local situation allows.
Bertling in Saudi Arabia
Bertling Logistics and Al Khaldi formed their joint venture company Al Khaldi-Bertling Logistics Ltd. back in 2021. The main purpose of Al Khaldi-Bertling Logistics Ltd. is to jointly explore new and existing business opportunities in KSA in both the oil & gas, the broader developing energy industries, and the non-oil sector.
Both JV partners have been in the industry for many years and have a long history of working in KSA. While Bertling focuses on global project logistics and transport engineering solutions, Al Khaldi primarily specializes in local logistics/trucking services and transport vehicle supply. In doing so, Al Khaldi will contribute its strong local logistics expertise, wide-spread partner network, and modern transport vehicle fleet, while Bertling will bring in its global office and supplier network, modern IT infrastructure, and varied project expertise in Saudi Arabia, neighboring regions and other foreign trade countries and partners of KSA (like South Korea, China, and India) to contribute to the success of the JV.

The in-house customs clearance department of Al Khaldi-Bertling Logistics Ltd is of special value because it enables the company to offer door-to-door service, advice, and documentation services to its local and global client base.
"Saudi Arabia has always been an important market for Bertling, and our global team is passionate about all the new business opportunities arising in the country"
says Richard Brown, General Manager of Al Khaldi-Bertling Logistics Ltd.
Richard has been in the logistics business for over 20 years already. He used to work with many known global logistics companies, also worked for Bertling in Iraq back in 2013/14, and was our Site Project Manager in Tengiz, Kazakhstan between 2018 and 2021. He is a team player, and always puts a great focus on local content. We are happy to count on this expertise and knowledge in driving our business in Saudi Arabia forward.