This year's World Mental Health Day, with the theme "MENTAL HEALTH IS A UNIVERSAL HUMAN RIGHT," underscores the vital importance of acknowledging mental health as a fundamental human right. It addresses the discrimination, harmful stereotypes, and stigma that can impede well-being within our communities, families, schools, and workplaces.
Recognizing mental health as a basic human right means that ensuring access to mental health services is not just an option but an obligation for states and global organizations. Access to better living conditions, security, food, shelter, and housing all play crucial roles in supporting mental health. Mental health is a universal right for all citizens worldwide, aligning with the principles set forth in 1948 by the WFMH.
Physical Activity and Mental Health
Our Sweden office contributed with a physical activity for managing stress and enhancing mental health. Organized by Christoffer Bokstedt and Anna Lundkvist, they held a spinning class during their lunch break, promoting wellness and movement among their team.
From Christoffer Bokstedt, Gothenburg office:
We want to promote wellness and movement, which is why we took the initiative to invite everyone in the office to a spinning class. The class was held in a gym nearby the office and was, of course, free of charge. We were 12 people participating, sweating to songs from the 80's.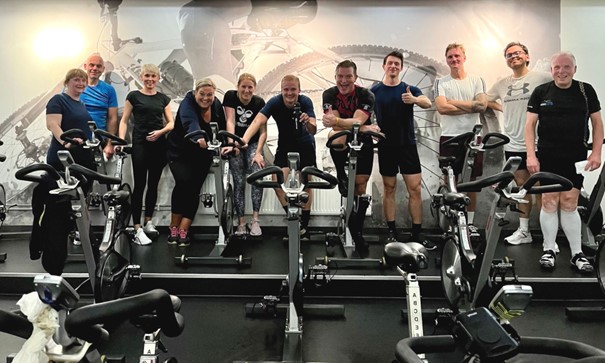 Similarly, our Bertling Aberdeen office encourage their employees to be moving and stretching. 
From Andy Lyall, Aberdeen office:
Part and parcel of working in freight forwarding is long periods working with display screen equipment. We should all know how to set up our desks and equipment to maintain comfort throughout the day, but we should also appreciate the benefits of moving and stretching. Many thanks to our colleague Norman Philips, Project Coordinator in our Aberdeen office, for sharing the leaflet, giving examples of great stretches that can be completed in the office to relieve muscle tension and soreness.
To Celebrate this significant occasion and promote employee well-being, our office in Dubai has organized a special initiative called "PingPong Prowess 2023". This event met with tremendous success, boasting a high level of participation from our Colleagues.
From Aleeyah Elorde, Dubai office: 
We engaged in friendly yet competitive matches, which not only fostered team spirit but also created a strong sense of community. It's worth noting, that the awards added an extra layer of excitement to the event.

This event provided a wonderful opportunity for employees to de-stress and relax. Engaging in physical activity like ping pong releases endorphins, which can significantly improve mood and reduce symptoms of anxiety and depression. Additionally, it facilitated connections and bonds among our Employees in a more relaxed setting, ultimately fostering a positive work environment.

We firmly believe that initiatives such as Ping Pong activities not only support our Employee Heath KPI but also contribute to creating a healthier and happier work environment. As we remain committed to our team's well-being, we are excited about the positive impact this event can have.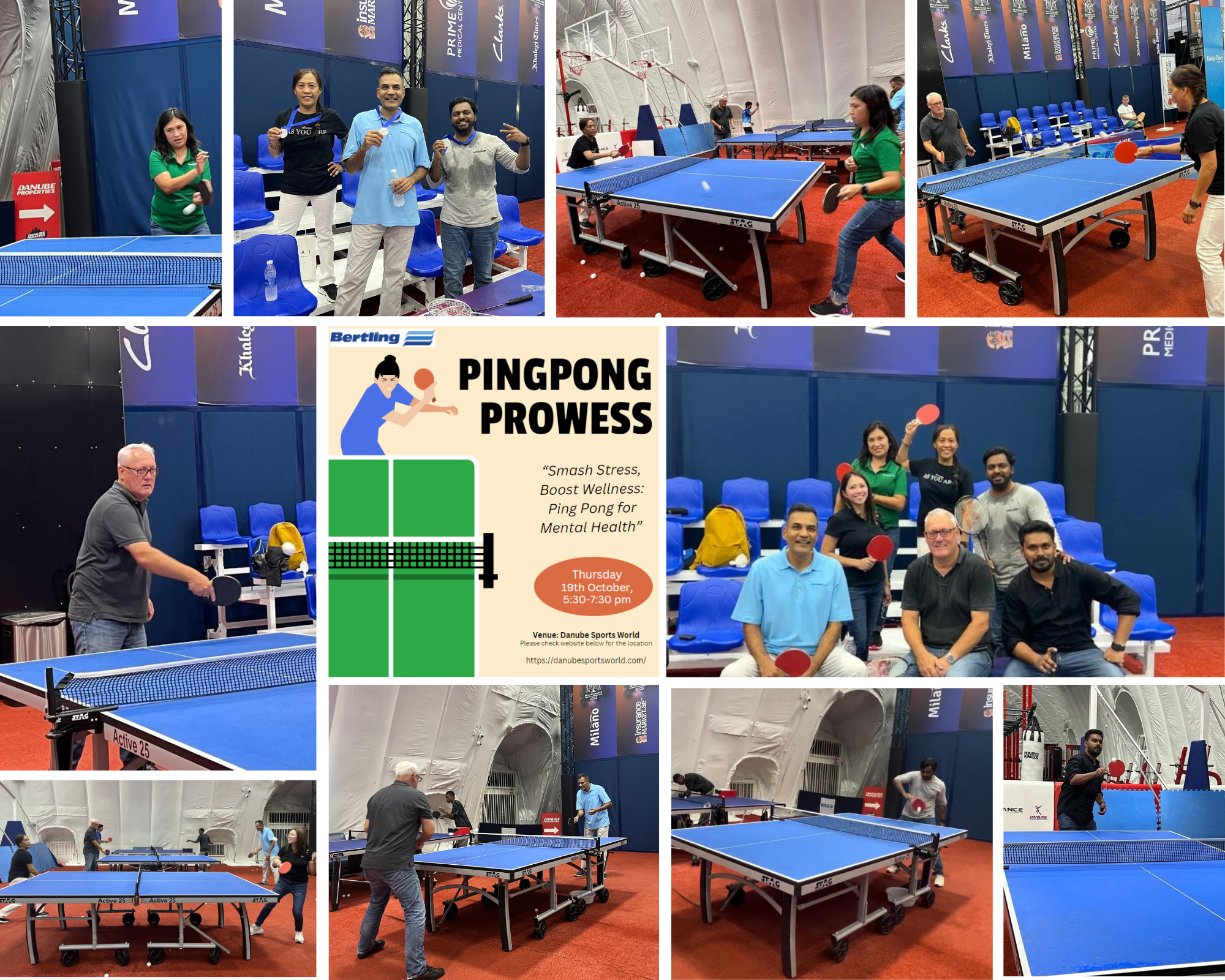 Live Well – Work Well, Self-Care 
Our colleague, Maria De La Iglesia from the London office is a dedicated youth mental health volunteer at NHS North West Trust London. She has shared valuable insights through the "LIVE WELL – WORK WELL, Self-care" initiative.
Our Hamburg office used Mental Health Awareness Day to reintroduce fresh fruit for all colleagues in their office. They also restarted their lunchtime running group.
From Stephanie Luening, Hamburg office:
We used Mental Health Awareness Day and our employee health KPI this month to reintroduce fresh fruit for all colleagues in our Hamburg office. From now on, fresh seasonal fruit will be delivered to our office by a local fruit distributor. With this initiative, we want to remind all colleagues to look after their health and well-being at work and to take short breaks now and then to eat fresh fruit.

Employees can also let us know what kind of fruit they prefer, and we can change the weekly orders accordingly.

We have also restarted our lunchtime running group. All colleagues are invited to join us for a ½ hour run through Hamburg's HafenCity on a weekly or bi-weekly basis. We aim to participate in a Company Run in Hamburg next week and would like to prepare for it. And what could be better after an energizing run than some fresh fruit in the office.

We look forward to many colleagues joining us in our corporate health initiatives and always encourage them to share their ideas and feedback with us.

Decluttering for Mental Health
Another great initiative we've seen from our Houston and Bremen offices has to do mainly with world clean-up day, but also highlights the effect that our environments can have on our mental health. Both offices have taken time to assess their surroundings and declutter and reorganise. Not only does this free up space but it also lifts our moods and improves the spaces we work in. If we do it at home, we call it a life laundry, because getting rid of clutter and unloved items, frees up space and refreshes our outlook.
From Janina Reining, Bremen office:
Open Spaces: We designed open workspaces with ample natural light and greenery to foster a sense of connection with nature, known to reduce stress and boost mood.
Collaborative Areas: We dedicated spaces for collaboration and relaxation, complete with comfortable seating, to encourage employees to take breaks and connect with their colleagues.
Quiet Zones: To cater to individual needs, we designated a quiet zone where employees could lie down and rest for a while, or focus without distractions, promoting concentration and productivity.
World Cleanup Day is not just about cleaning up the environment; it's also an opportunity to declutter and enhance the spaces where we spend a significant portion of our lives. By recognizing the importance of a clean and well-organized workspace in promoting mental health, we took a meaningful step towards creating a more positive and productive work environment for our employees"

Similarly, in our Houston office, decluttering involved removing aged paperwork, creating a lighter and more open atmosphere. However, it's essential to check legal and other requirements for record-keeping before attempting such changes. In addition to their decluttering, Houston will also be donating blood.
From Charlye Hebert, Houston office:
As part of Health Month, our Houston colleagues will also be organising a blood drive, with a mobile blood donation van attending the office ready for brave volunteers to donate blood during the day. This is an excellent way to help improve the health of others, especially if you have a rare blood type, as hospitals and trauma units need a constant supply to help patients through surgeries or traumatic injuries. The donations will take place near the end of the month. We hope you agree this is a fantastic way to help others and really is a gift and a lifeline to those who need it.

We hope you find this information helpful and valuable for your well-being. 
HOW CAN WE SUPPORT YOU?