Today 26 August is Women's Equality Day and marks the 103rd anniversary of women's suffrage in the USA. On this day we remember and honor the women's suffrage movement and acknowledge the challenges that women have had to overcome on their way to equality – still nowadays.
The theme of this year is #EmbraceEquity to strive towards equity, access, and opportunity for women around the globe. We have asked the women at Bertling Logistics what Equality means to them and here are the contributions:
Bertling Logistics Dubai
"Equality at Bertling Logistics is fostering a work environment where every individual, irrespective of their cultural background, gender identity, or beliefs, is treated with utmost fairness and respect. We are committed in creating a workplace where all employees have the same opportunities to succeed, grow and contribute their unique talents to our collective success.
Equality for us is not just a concept, it is a fundamental cornerstone that drives our efforts to cultivate a diverse and harmonious workforce. As we commemorate "Women's Equality Day", we renew our commitment to advancing gender parity and breaking down barriers, both within our workplace and throughout society. Happy Women's Equality Day! Today we celebrate the remarkable achievements of women and the progress we've made towards equality. Your strength, resilience and contributions inspire us all. Keep shining brightly!"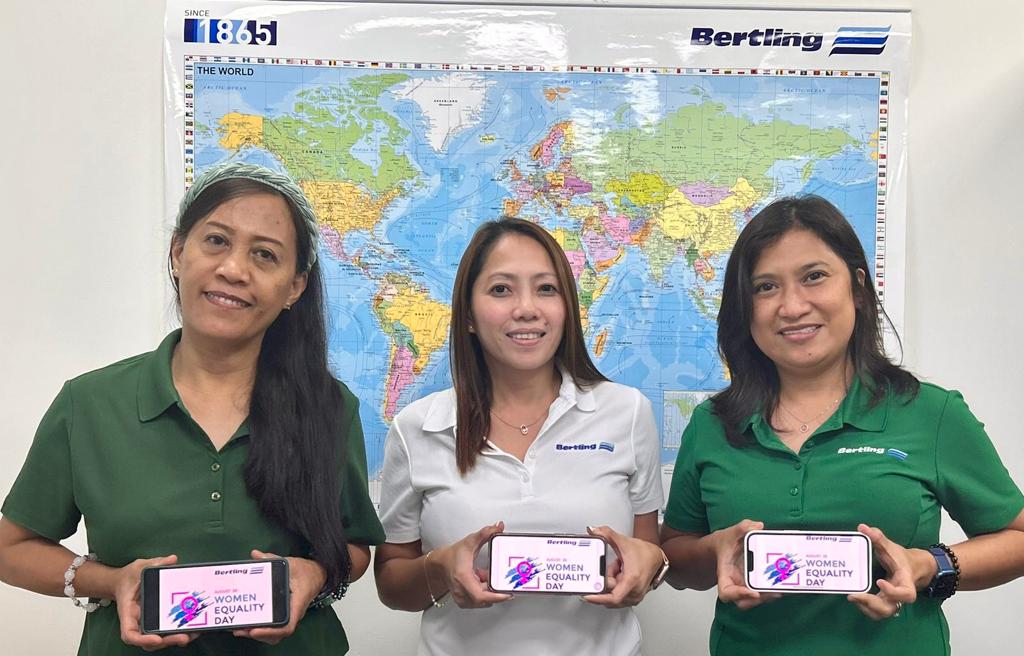 From left to right: Lanie Cusi (Accountant), Nemia Dionero (Office Assistant) and Aleeyah Elorde (Administration/QHSE Coordinator)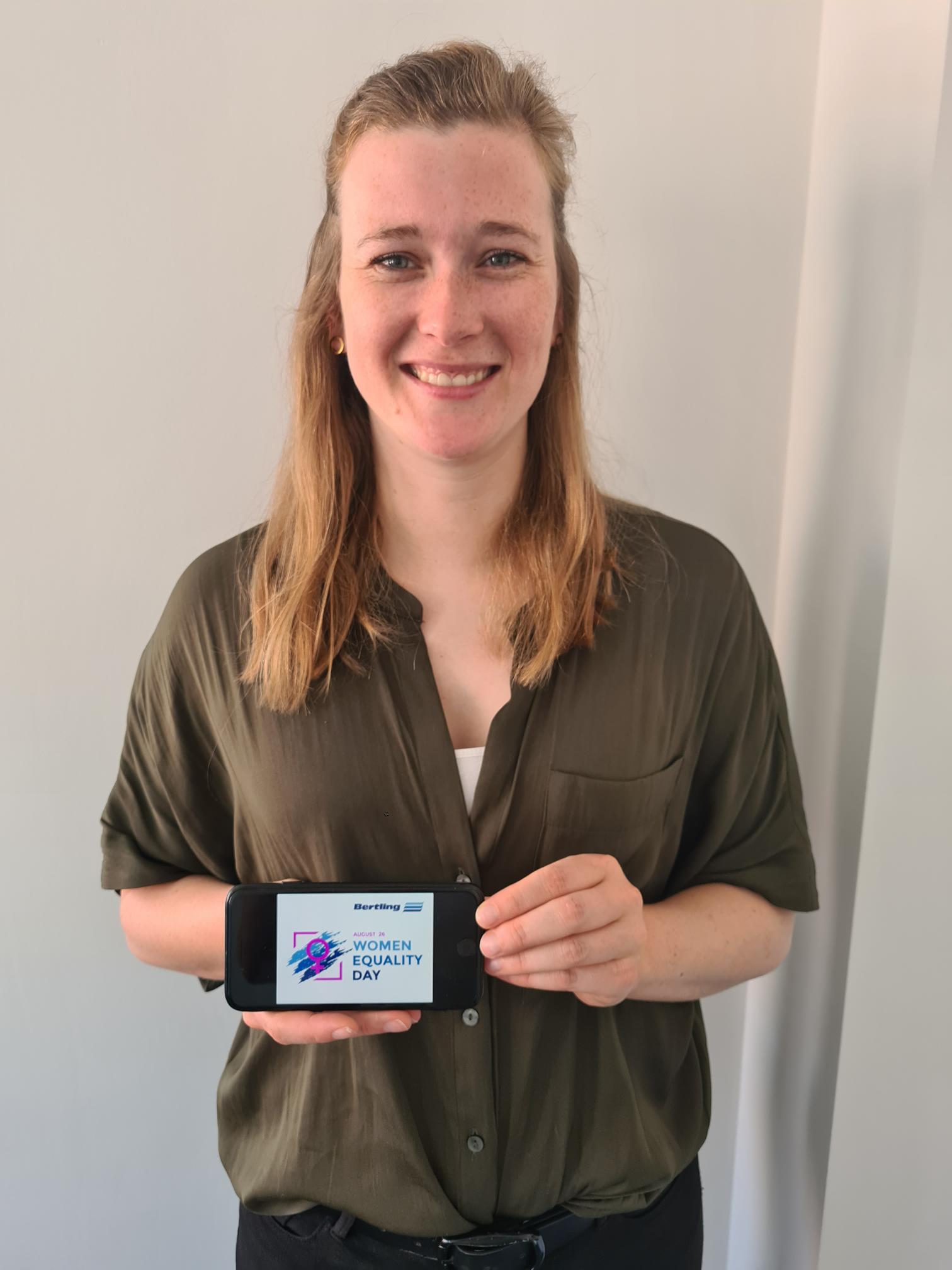 Therese Strootmann, Head of Digitalization & TMS at Bertling Logistics Hamburg HQ
"For me, equality means that even as a woman in a rather male-typical profession, I can assert and develop myself without prejudice. These stereotypes do not exist at Bertling Logistics. As we are a company that works globally, I enjoy the exchange with colleagues and customers from all over the world.
I am encouraged to pursue my ideas and implement them. For that reason, I am also additionally part of our corporate sustainability team and continue to develop our strategy. That way, I always learn something new, can organize my working day freely and develop my skills further."
Ainur Shnasheva, HSE Coordinator at Bertling Logistics Kazakhstan
"In today's world, gender roles and stereotypes are becoming less restrictive, and I am an example of how to successfully combine a male profession and a female personality. As a woman, I am happy and proud to say that my organization is dedicated to the support and development of women.
In this company, I am not only among equals, but also can freely express my thoughts and ideas. There are many moments in my HSSE profession where I am in a male-dominated environment. However, on construction and industrial sites, I also put on my helmet and iron-toed boots, demonstrating my professional competence on a par with male colleagues.
 It never happened to hear doubts that this is not "women's work". On the contrary, I have always been surrounded by praise, admiration, and support.
My ability to communicate and find a common language with colleagues helps to strengthen mutual understanding in the team. However, returning home, I also remain a beloved daughter, a caring sister and an understanding friend. Bertling understands that work-life balance is important and allows me not only to develop professionally, but also to focus on my interests and hobbies, such as self-realization and self-development. No matter how intense my work may be, I always find time for self-care, self-development and maintaining inner harmony. This allows me to keep a sense of myself and not lose my feminine essence.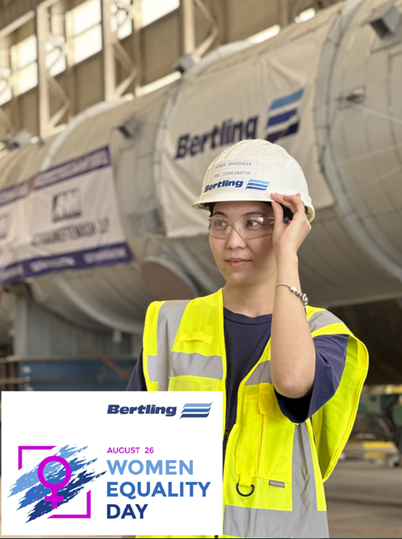 As a result, my story shows that the male profession does not fully determine my personality. I am an HSSE lady, and I am proud of how my unique combination of qualities contributes to my professional success and keeps my feminine essence intact."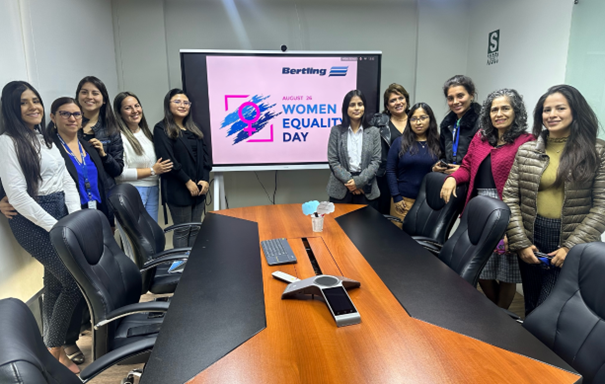 Bertling Logistics Lima
"As women, we are very satisfied to work in a company that always empowers women in any position, gives us equal opportunities and allows us to achieve our goals."
Martha Iliadou, Marketing & Tender Coordinator at Bertling Logistics Hamburg HQ
"It is a great inspiration to celebrate Women's Equality Day at Bertling among all these hardworking, proficient and talented women from all around the globe and a great delight to know that they are being recognized within the company for their daily achievements. Happy Women's Equality Day to all my amazing colleagues!"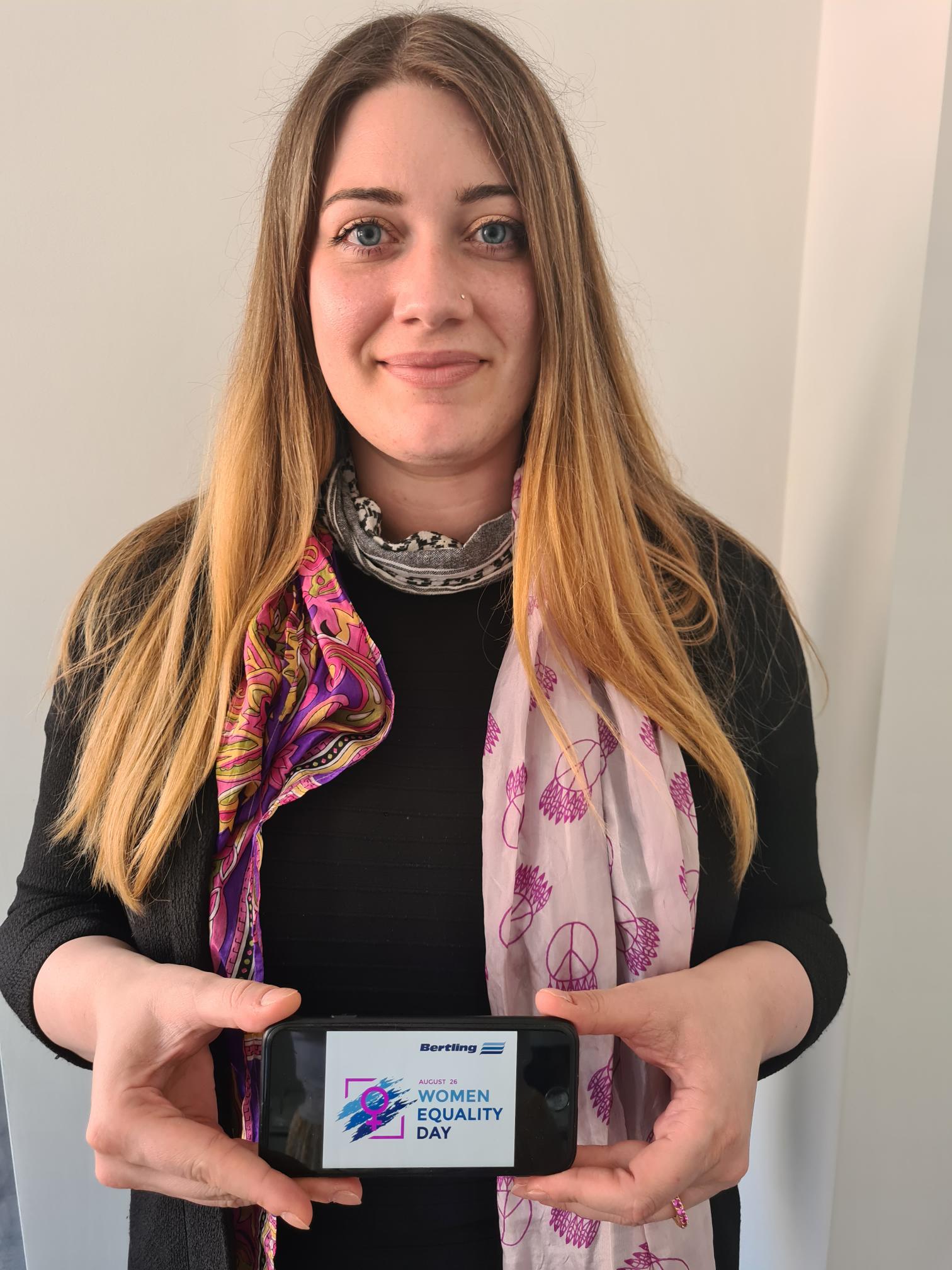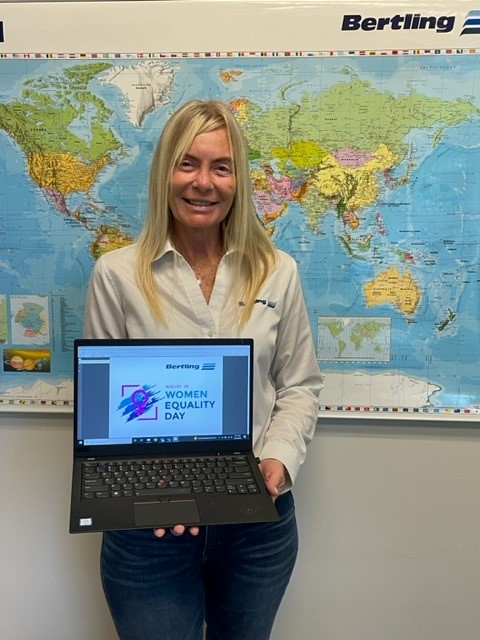 Alicia Byrne, Operations Director at Bertling Logistics Miami
"As a woman, I am proud to confidently say I work in a place where I am treated equally and fairly among all my peers. Bertling not only encourages internal growth for women, but does so while understanding the important responsibilities that accompany being a woman. As a single mother, they've offered me the needed flexibility I sometimes require to be present in the school for any grade recognition for my daughter, all while being able to maintain my position and still take on several different projects in Miami office.
I am truly grateful for all the opportunities I've been given at Bertling Logistics which have helped me grow professionally as well have and share more sustainability concept and actions, while balancing the daily challenges that come with being in different roles at the same time. As someone whose worked in this industry for many years, it's nice to see how far we've come and to be surrounded by a higher number of women in leadership roles."
Maral Armenova, Business Site Manager at Bertling Logistics Kazakhstan
"I'm incredibly proud to be counted among the women who work at the Tengiz Oilfield. The opportunity given to me by Bertling Logistics is something I hold in high esteem, as it has allowed me to demonstrate my professional skills on an equal platform with my male colleagues.
Throughout each working rotation on site, I find a profound sense of fulfillment in my profession. Yet, when I return home, I seamlessly transition into the roles of a beloved mother and a dedicated housewife. It brings me great happiness to know that I am inspiring my daughter with the belief that women can achieve success in any profession or aspect of life, regardless of gender."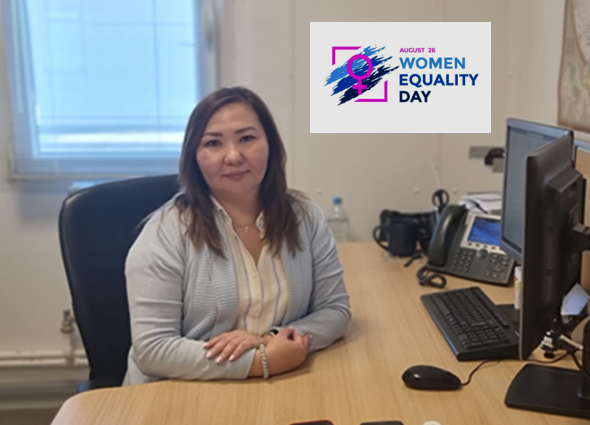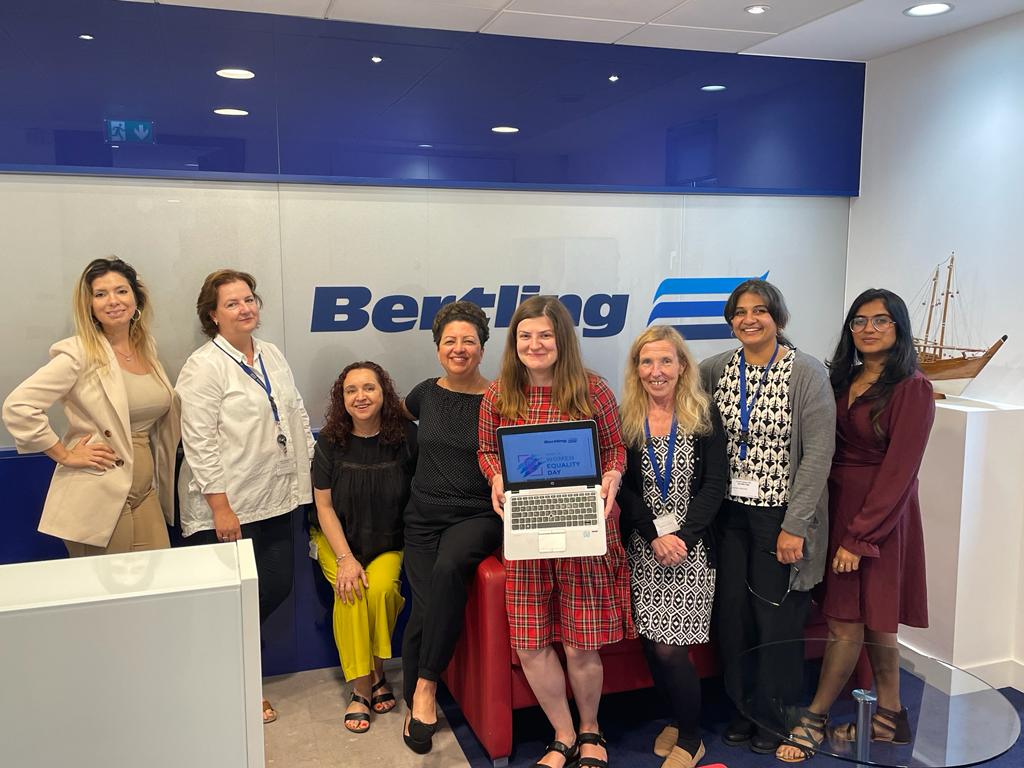 Bertling Logistics London
Samantha Nelson, Global Operations Director
"As a woman, I truly appreciate working for a company that focuses on recruiting the best person for the job, irrespective of gender. We have a high level of female management across all levels of the company, which has been driven by ability and not a levelling up agenda. It is encouraging to work with so many talented and dedicated women."
Pamela Aguirre, Project Coordinator
"There is no limit to what we, as women, can accomplish, and there is no success that cannot be achieved if we work hard for it."
Emilia Lange, Project Coordinator
"I am proud to work for an organization with strong female leadership - female managers and directors. They are all dedicated, highly qualified and inspiring to less senior colleagues. It is empowering and motivating, allowing us to dream big for our careers as women in Logistics."
Eva Oliveira, QHSE Advisor
"Bertling is a gender-equal environment where all employees feel respected and valued. That creates an overall positive workplace. Our Bertling ladies have valued talents and strengths, so let's celebrate that plus the beauty, grace of us women around all our offices. Happy Women's Equality Day to all our lovely Bertling female colleagues!"


Stephanie Luening, Director of Tendering & Marketing at Bertling Logistics Hamburg HQ
"As a woman, I am proud to work for an organization that supports and empowers women, not just in logistics, but in all industries and aspects of life. As a working mum of two daughters, I appreciate a certain level of flexibility in my workdays. From time to time, I take "creative" breaks to make paper planes, play hide-and-seek, build LEGO towers, do face paints, etc, and then continue working with a refreshed mindset. I also appreciate the fact to plan business trips well in advance to get childcare organized while I am away. To sum up, at Bertling Logistics, we care for talent, skills, expertise, enthusiasm, professionalism, and good work ethics – and none of this is gender related."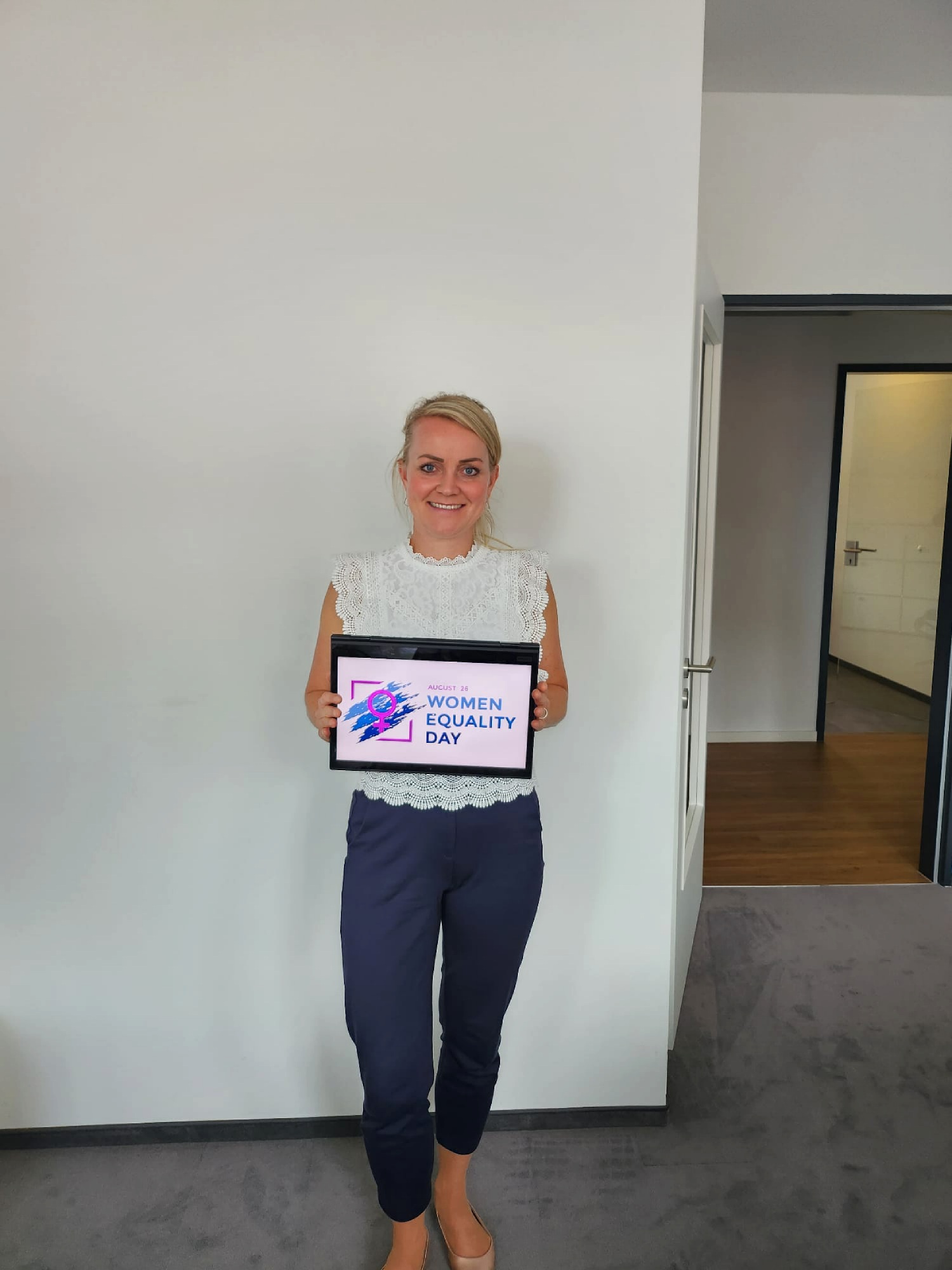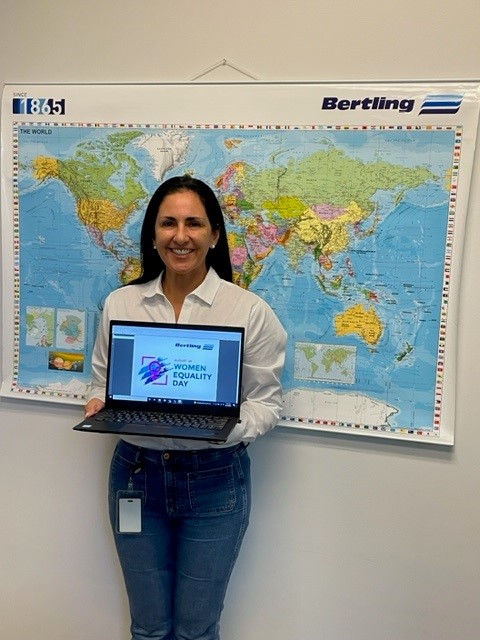 Ana Cecilia Morillas, Executive Assistant at Bertling Logistics Miami
"In the 10 years I've worked for Bertling, I have never felt oppressed because I am a woman. In fact, I have always been pushed to do things outside my comfort zone, and I have felt respected, appreciated, empowered, and valued. This has brought me joy over the years and has truly inspired me to do my best at my job. I always want to go the extra mile.
Being a woman in this society is not easy. You are always expected to meet certain societal expectations when it comes to the way you look and what you say and what you don't say. As a single mom that raised 2 daughters, I felt even more pressure, knowing that they were always looking at me for guidance, when little to emulate me and when older to judge and discuss.
For me, equality for women goes beyond eliminating discrimination; it involves creating a world where women have the same opportunities and rights as men, enabling them to lead fulfilling and satisfied lives in all aspects of society.
When talking about women equality, I can't help but think about my mother, Anita. A woman that went above and beyond all expectations for a woman of her times. Back in the late 1950s, when very few women had access to higher education, she attended my hometown's public college in Trujillo, Peru.
She pursued a bachelor's in accounting. Can you believe she was one of 2 women in her graduating class? Her and her friend Maria- the other ladies went to college to be teachers. My mother not only graduated with honors and later went to become a CPA, but she also held several leadership positions that were only reserved for men at the time.
My mother also loved sports. She played volleyball in college, and she was also a member of the fencing team. Even now at 84 years old, her love for sports shines through. She loves to watch all sports on TV! And she knows the names of the players by heart, as well as the position they play and their jersey numbers. This is something that only men did back then, but she is a true inspiration.
Among many other things, my mom has always inspired me to be a strong woman, just like she's always been. I treasure her ability to get her degree, and to pursue her interests, no matter what society told her or made her feel. She never let any stereotype define who she is!"


Bertling Logistics Kazakhstan
"On this Women's Equality Day, I take immense pride in being a part of an organization that champions the cause of women's empowerment and equality. I am grateful for the unwavering support and opportunities of our company, which provided to women across all sectors and walks of life.
At Bertling Logistics, the ethos revolves around nurturing talent, honing skills, fostering expertise, igniting enthusiasm, upholding professionalism, and embracing good work ethics. Importantly, none of these attributes are tied to gender. Our commitment to gender equality is not just a slogan, but a living reality that permeates every facet of our organization. As we commemorate Women's Equality Day, let us reaffirm our dedication to building a world where opportunities are truly gender-blind, where each individual is judged solely on their abilities and contributions. I am proud to stand shoulder to shoulder with my colleagues, regardless of gender, in driving our company's vision forward and shaping a future of true equality. Here's to a day of celebration, reflection, and an inspired commitment to a brighter, more equitable tomorrow."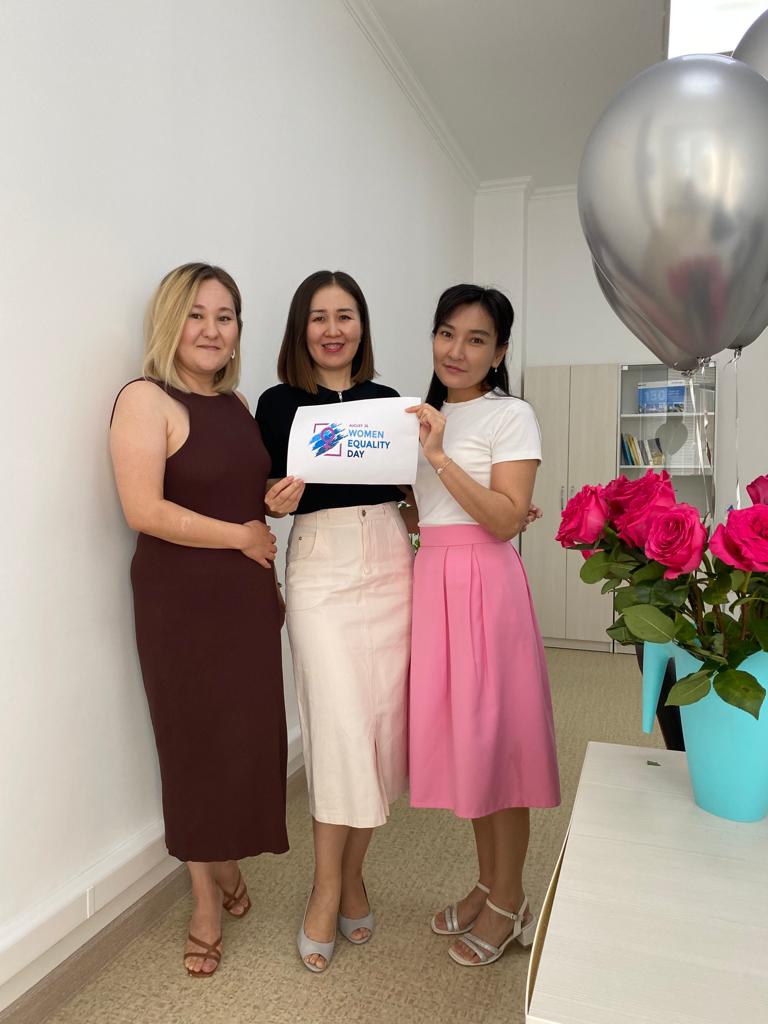 From left to right: Zada Abilgaziyeva (Team Lead), Gulzhanat Zhasmagambetova (Project Manager), Shynar Zhumagulkyzy (Project Certification Specialist)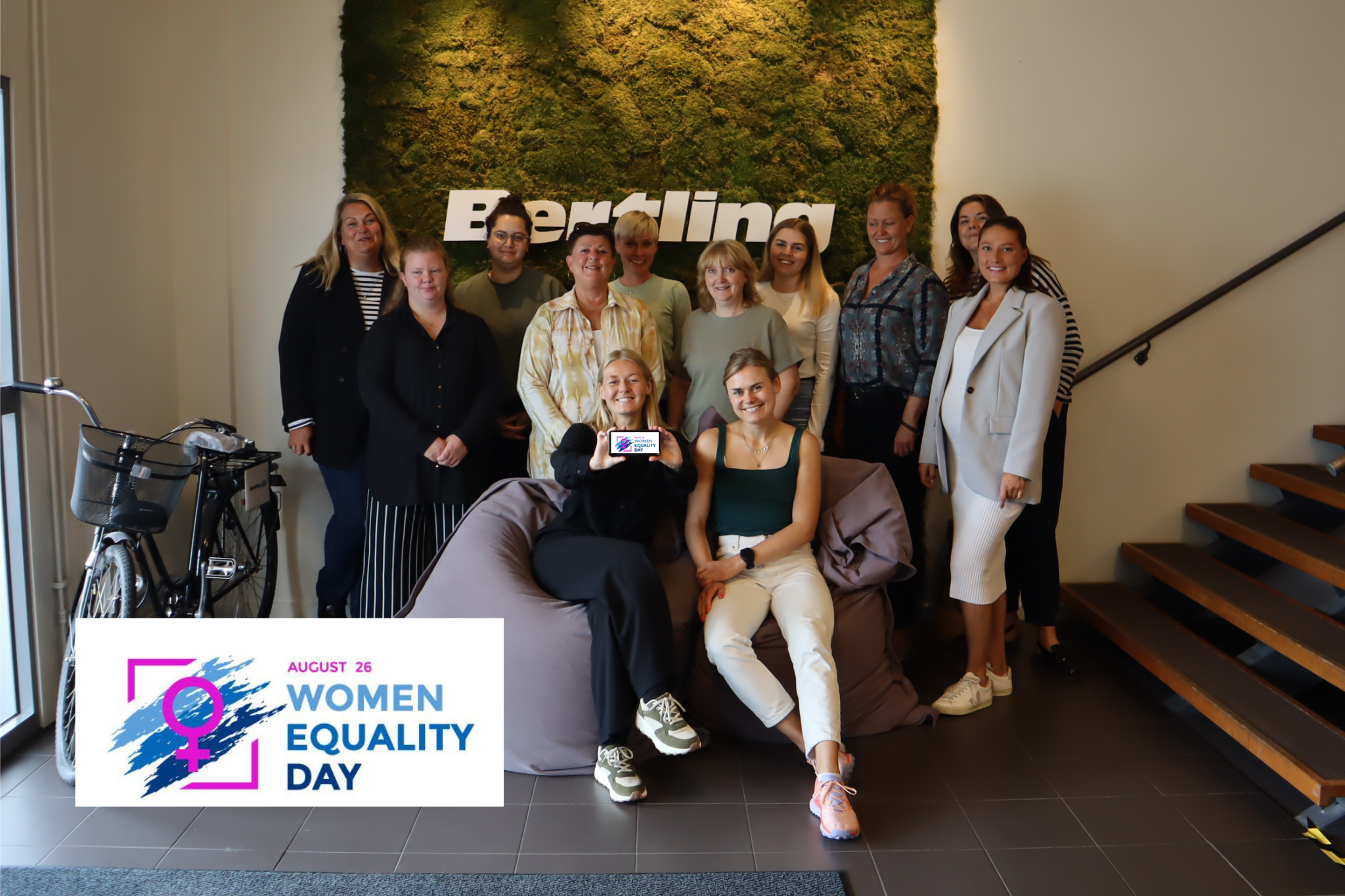 From left to right: Anna Lundkvist, Almaz Ahern-Hailu, Camilla Fägersten, Olivia Bengtsson, Malin Andersson, Selma Stuchly, Anna Winberg, Madelaine Jacobsen, Christina Johansson, Malin Norén, Ella Cederstav, and Matilda Gustafsson
Bertling Sweden
"We support our women, always!
We make it a priority to provide an environment that supports women daily. We believe that by creating a work environment that encourages open communication, embraces different perspectives, and promotes inclusion, every team and company can reach its full potential. To us, equality means treating everyone fairly and respectfully, regardless of background, gender, or sexual orientation. We are working extra hard to make Bertling a contemporary workplace where everyone is welcome, regardless of who you are, and where you are from."
Kara Murphy, Logistics Group Health and Safety Director at Bertling Logistics in Middlesbrough
"I've sat down to write my thoughts on women's role at Bertling a few times, and every time I've struggled. That might sound like a bad thing, but in actuality it's not. I think I struggle because being a woman at Bertling isn't something I think about often. My gender doesn't play a massive part in what I do or where I am, and for me that's a good sign.
Bertling, views everyone on their merit, regardless of gender or any other characteristic, women in Bertling are just as likely to hold leadership roles and in certain areas, such as our sustainability team, they make up the majority of the team. You also just need to look at the photo on LinkedIn of the senior management team in Hamburg earlier this year, to see the important and growing role women play in the organization at every level.
I think there is opportunity for everyone and Bertling and there's also a flexibility to allow women to thrive on an equal footing. I think mentoring our less senior colleagues is an important step and showing them that it is diligence and hard work that gets rewards, regardless of gender. We can always do more, but I think that generally Bertling can be a rewarding place to work for everyone.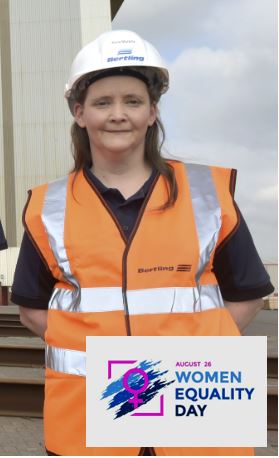 To finish, I am proud to work with some exceptionally talented women (and men too) at Bertling and I hope that the role of women at Bertling continues to strengthen and bring success for us all.
Let's keep empowering our women and work towards Equality and Equity for all!"